Milano Design Week | LEED Buidings in Milan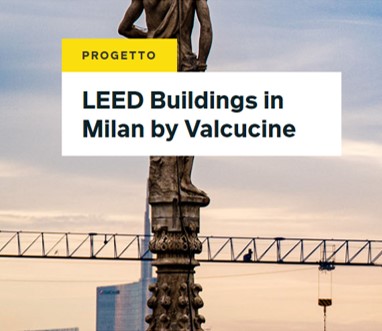 Milano Design Week | LEED Buidings in Milan
As part of "Sustainability beyond space and time" during Milan Design Week (6-12 June 2022), Valcucine presents "LEED Buildings in Milan" an itinerary through some of the most interesting LEED-certified buildings in Milan.
Milan, together with Madrid, Stockholm, Frankfurt and Istanbul, is one of the five European cities that can boast the largest number of architectures designed according to the LEED international standard: the certification developed by the US Green Building Council (USGBC) that attests to a building's sustainability and energy efficiency.
LEED, an acronym for Leadership in Energy and Environmental Design, is a voluntary certification programme that can be applied to any type of building (both commercial and residential) and covers the building's entire life cycle, from design to construction.
The US Green Building Council (USGBC) recently announced that Italy is ranked eighth in the world in its annual list of the 10 best countries and regions for LEED in 2021. The ranking highlights countries and regions outside the United States that are making significant progress in healthy and sustainable building, both in the design, construction and operational phases. In 2021, 106 LEED projects were certified in Italy, representing over 1.16 million gross square metres of floor space.
In Milan there are now more than 230 buildings LEED certified, or in the process of being certified, that help reduce carbon emissions and provide healthier environments for the people who live and work in them.
These include the office building we designed in the Porta Nuova district, which is now Amazon's headquarters. A jewel of technology and aesthetic sensitivity that has obtained LEED Platinum certification, the highest level of recognition in terms of environmental and energy performance.