GBPA designs the Porsche Experience Center in Franciacorta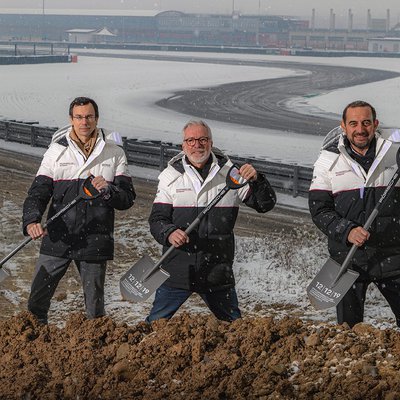 GBPA designs the Porsche Experience Center in Franciacorta
GBPA ARCHITECTS DESIGNS THE LARGEST PORSCHE EXPERIENCE CENTER IN THE WORLD
AT THE START OF THE WORKS AT THE AUTODROMO FRANCIACORTA. LESS THAN ONE HOUR FROM MILAN
In October of this year GBPA ARCHITECTS, an integrated design company managed by architects Antonio gioli and Federica De Leva, was commissioned to design the buildings of the new Porsche Experience Center Franciacorta, The eighth system of this type in the world after those of Leipzig, Silvestorne, Atlanta, Le Mans, Los Angeles, Shanghai and hockenheim. Franciacorta will be the world's largest Porsche Experience Center.
Pietro Innocenti, CEO of Porsche Italia, Marco trinco (CFO di Porsche Italia), Andreas Marin were present at the key delivery ceremony at Porsche, Thursday 12 December (Project Manager PEC Franciacorta – Porsche Italia), Giovanni aldi (Mayor of castrezzato), Roberto Puricelli (Manager Credits Alba Leasing) and Antonio gioli and Federica De Leva (owners GBPA architects)
The entire structure is housed on a total area of 559,000 square meters in the area of the current Franciacorta Circuit chassis (in the province of Brescia) and will involve an investment of over 26 million euros.
GBPA ARCHITECTS will redevelop some of the existing buildings and create new spaces. Only the building dedicated to the customer center will be over 5,000 square meters and will have a particularly original architectural style, never seen before in any other Porsche Experience Center. It 'also planned to remake the track with a new asphalt and the addition of slopes and squares for every type of dynamic activity, all according to quality standards and excellence like the other JEPs in the world.