Bday Eva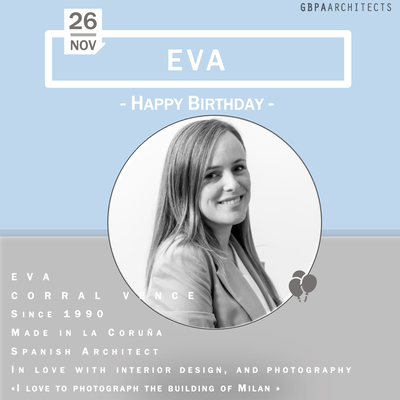 Bday Eva
Eva Corral Vence, architect in GBPA
From in 199o
Born and raised in a village in La Coruña between the sea and the mountains.
Graduate in Architecture at the University of La Coruña (Spain).
Passion for interior design since always!
Eva does not like comfort zones, she loves to travel and test herself in realities that she does not know.
After his first work experience in Spain she moved to Milan where she worked for four years in the field of architecture and retail, also collaborating with studios in Switzerland.
In her suitcase there is always her camera. She loves music, cinema, GP motorcycle races and photographing the entrances of the buildings of Milan.
Happy Birthday Eva!
in evacorralvence
FB @evacorralvence
IG @eva.cove